In recent years, SRI (Socially Responsible Investment), which evaluates corporate activities from the perspective of sustainability in the areas of ESG (Environmental, Social and Governance), has become one of the most important investment selection criteria. We have positioned Creating Shared Value (CSV) as core values of our management and have been highly rated by various evaluation organizations. Our inclusion in the SRI indices are as follows.
*As of the end of March 2022
Selected as a component of "DJSI Asia Pacific", a leading index for ESG investment, for fourth consecutive year
Coca-Cola Bottlers Japan Holdings Inc. has been selected as a component of the Dow Jones Sustainability Indices (hereinafter "DJSI") for the Asia Pacific region for the fourth consecutive year. DJSI is a world-renowned ESG (Environment, Society, and Governance) investment index. This year, 153 companies (of which 77 were from Japan) including CCBJH were selected out of approximately 600 major companies in the region. CCBJH has received high scores in Environmental Policy and Codes of Business Conduct as well as Human Capital Development etc.
DJSI is a stock index created jointly by S&P Dow Jones Indices and SAM. It conducts annual S&P Global Corporate Sustainability Assessment (CSA) targeting Appx. 3,500 major companies around the globe, in the three areas of Economy, Environment, and Society, to select companies that are highly sustainable. It is a global index for ESG investments and serves as the benchmark for selecting key investment targets. The appraisals serve as the standard in selecting key investment destinations as a global index for ESG investment.
The CCBJH Group has placed creating shared value (CSV) as one of its most important management issues, further advance CSR in accordance with ISO26000, the international standard for social responsibility. We work to solve social issues with specific action plans under three Sustainability Framework "Inclusion", "Communities", and "Resources", and that lead us to be selected for "DJSI Asia Pacific".
We will continue to work to solve social issues through our business activities, and to contribute to achieving SDGs※1 in our business area toward the realization of a sustainable society.
※1 Sustainable Development Goals: SDGs are international goals which are adopted in 2015 at a United Nations summit to achieve a better and more sustainable world by 2030. They are a collection of 17 goals and 169 targets.

【Reference】
DJSI Website
https://www.spglobal.com/esg/csa/
Selected for FTSE Blossom Japan Sector Relative Index
Coca-Cola Bottlers Japan Holdings Inc. has been selected as a constituent of the FTSE Blossom Japan Sector Relative Index. Created by the global index provider FTSE Russell in March 2022, the index is designed to be a sector neutral benchmark, relatively reflecting the performance of Japanese companies that demonstrate superior Environmental, Social and Governance (ESG) practices in each sector. The index is also designed to support the transition to a low carbon economy by including only those positively evaluated by the Transition Pathway Initiative (TPI) Management Quality score.
The FTSE Blossom Japan Sector Relative Index is used by Japan's Government Pension Investment Fund (GPIF) as a benchmark for ESG passive investments.
CCBJH is committed to evolve CSR in line with ISO26000 standards for organizational social responsibility. We center Creating Shared Value (CSV) as the core of our business to fulfill both business growth and social sustainability as a single objective. We are taking actions in line with the three platforms of Inclusion, Communities and Resources plus nine priority issues, alongside our non-financial CSV Goals.
We continue to make efforts in solving social issues through our business activities and aim to realize a sustainable society.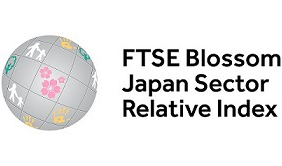 [For Reference]
・FTSE Russell
https://www.ftserussell.com/ja/
・FTSE Blossom Japan Index Series
https://www.ftserussell.com/ja/products/indices/blossom-japan
Selected for The S&P/JPX Carbon Efficient Index
The S&P/JPX Carbon Efficient Index selected Coca-Cola Bottlers Japan Holdings Inc.(CCBJH) as a group satisfying environmental information disclosure and carbon efficiency (carbon emissions per unit of revenue) standards according to their constituent selection and weighting process. CCBJH is classified as the decile category 1 (lowest carbon emissions per unit of sales revenue) in the evaluation of carbon, which is one of the factors to determine the stock composition ratios.
*As of 2022