(As of Dec 31, 2020)
| | |
| --- | --- |
| Authorized shares (thousands) | 500,000 |
| Outstanding shares (thousands) | 179,348 (Common share) |
| Number of shareholders | 62,701 |
Note: All outstanding shares issued by the company are common shares. There are no class/preferred shares issued by the company.
The company grants one voting right per 100 common shares.
Major Shareholders
Shareholders
Number of shares held
(Thousands)
Shareholding ratio
(%)
Coca-Cola (Japan) Company, Limited
27,956
15.59
The Master Trust Bank of Japan ,Ltd. (Trust account)
10,450
5.83
Custody Bank of Japan, Ltd. (Trust Account)
5,571
3.11
Ichimura Foundation for New Technology
5,295
2.95
Satsuma Shuzo Co., Ltd.
4,699
2.62
STATE STREET BANK AND TRUST COMPANY 505225
4,241
2.36
Senshusha Co., Ltd.
4,088
2.28
Coca-Cola Holdings West Japan Inc.
4,075
2.27
Mitsubishi Heavy Industries Machinery Systems, Ltd.
3,912
2.18
MCA HOLDINGS CO., LTD.
3,408
1.90
Note:

The treasury shares (26,920 thousand shares) are excluded from the list above and from the calculation of ratio of shareholding.
Ownership and distribution of shares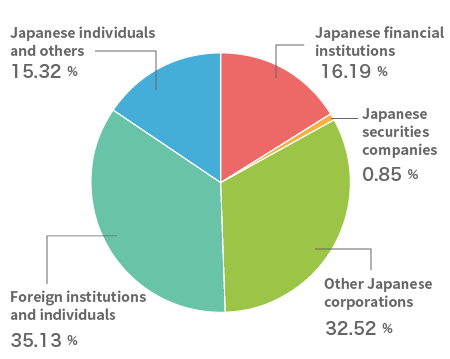 Number of
shareholders
Number of
shares held
(in thousands)
Percentage
to total shares
in issue
Japanese financial
institutions
58
36,611
17.7
Japanese securities
companies
48
4.828
2.3
Other Japanese
corporations
840
66,142
32.1
Foreign institutions and
individuals
607
46,605
22.6
Japanese individuals and
others
61,147
25,163
12.2
Treasury stock
1
26,920
13.1
Total
62,701
206,269
100.0