Coca-Cola Bottlers Japan Holdings Announces New Strategic Business Plan:Vision 2028
Targets revenue growth of 2-3% p.a., business income margin of 5%+ and ROIC of 5%+
Aug 09, 2023
Coca-Cola Bottlers Japan Holdings Inc.
Coca-Cola Bottlers Japan Holdings Inc. announced its new strategic business plan for 2028. We aim to achieve revenue growth of 2-3% p.a., a business income margin of 5%+ and a ROIC of 5%+ by 2028.
Key transformation initiatives to date have built a strong business foundation, and the business environment is gradually clearing up, despite being significantly affected by the impact of COVID-19 and the challenging cost environment. Furthermore, business performance has steadily recovered. Therefore, we have formulated a new strategic business plan, "Vision 2028" to accelerate efforts for sustainable future growth.
Under our corporate philosophy, "Paint it RED! Let's Repaint our Future.", our mission is to deliver happy moments to everyone while creating value. By steadily implementing key measures of our new strategic business plan, we will achieve our mission and move toward sustainable growth that increases corporate value.
Overview of Vision 2028

■Outline
Sustainable, profitable growth with a robust cost structure
■Pillars of Our Initiatives
✓ Commercial Excellence: Product strategies in-line with trends, appropriate growth strategies by channel, profitability-focused commercial activities, vending transformation
✓ Supply Chain Optimization: Agile logistics, flexible manufacturing structure, end-to-end integration, digital technology
✓ Back-Office and IT Optimization: Promote data-driven management, optimize administrative and business operations
✓ ESG/Human Capital/Strengthened Financial Foundation
■Key Metrics and Picture of Success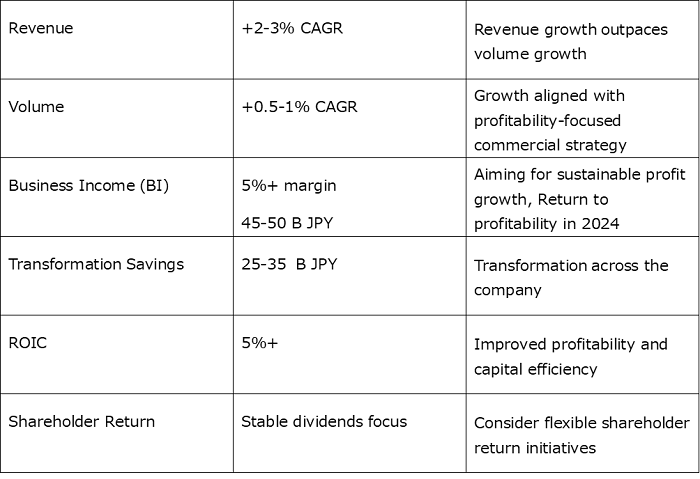 ■Reference Material
https://en.ccbj-holdings.com/pdf/irinfo/193_3.pdf
※Please note that the information contained in news releases is current as of the date of release. Certain information may have changed since the date of release.